Palmetto Animal League Donation Drive to be Held During December Through "Santa Paws at Pinnacle" Program
(BLUFFTON/BEAUFORT, SC) Santa Paws at Pinnacle, a holiday donation drive benefiting Palmetto Animal League (PAL), will launch for the month of December with a kick-off party hosted at Pinnacle Medical Group's Sheridan Park office at 7 Mallet Way on Thursday, Dec. 5 from 4 to 6 p.m.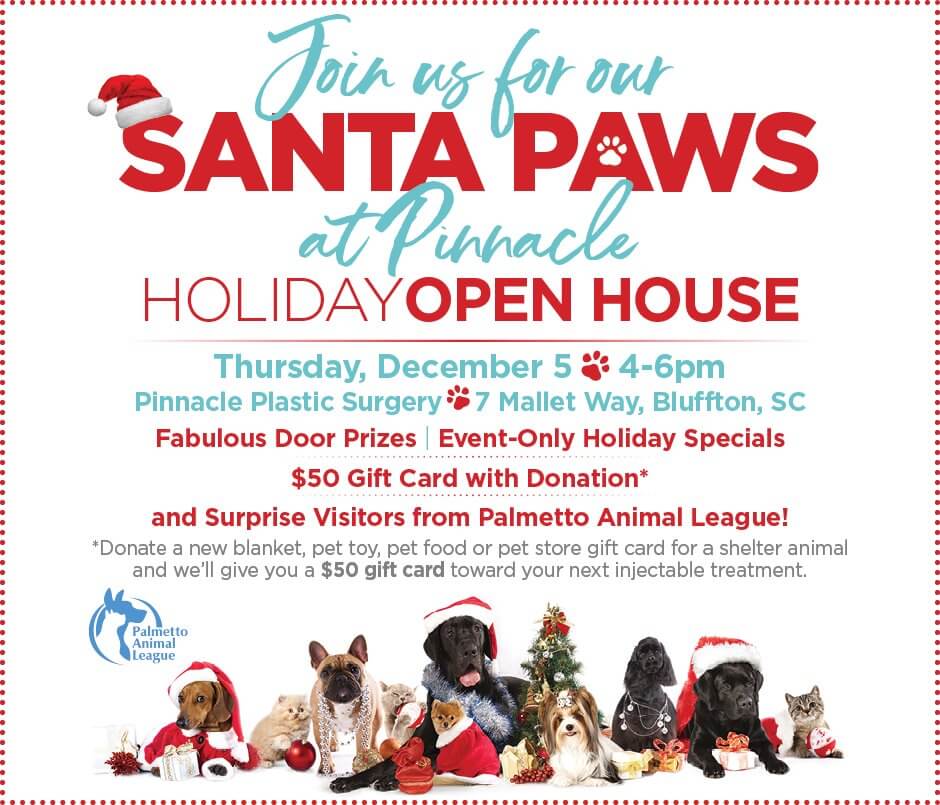 The kick-off event will feature door prizes, refreshments and a visit from PAL's furry friends. Guests are encouraged to bring new blankets, towels, dog toys, food, cleaning supplies, shampoos, collars, leashes, beds and tennis balls. Pet store gift cards and cash donations are also accepted.
All donations will be given to PAL and distributed among rural shelters with limited resources. With each donation, guests will receive a $50 gift card toward an injectable treatment at Pinnacle Medical Group.
"The holiday season is a time to give back," said Dr. Audrey Klenke, plastic surgeon and principal of Pinnacle Medical Group. "With Santa Paws at Pinnacle, we're able to give much-needed resources to our local shelters, while also providing a fun celebration for the community as a 'thank you' for their generosity."
PAL is a nonprofit no-kill shelter in Okatie that houses dogs and cats in need of a good home. Currently in its fifth year of operation, PAL offers fostering and volunteer opportunities in both its shelter and free-standing thrift store.
This will mark the sixth year Pinnacle Medical Group has partnered with PAL to collect supplies for rescue pets. Previously called "Blankets for Botox," Santa Paws at Pinnacle will continue collecting donations throughout the entire month of December at the Pinnacle's Bluffton and Beaufort offices during normal business hours.
While the kick-off event is free and open to animal lovers of all ages, it is limited capacity and Pinnacle and PAL encourage interested individuals to reserve their spot online at https://www.facebook.com/events/499953557533212/?active_tab=about.
ABOUT THE PINNACLE MEDICAL GROUP 
The Pinnacle Medical Group is the locally owned and operated parent company of Pinnacle Plastic Surgery, PURE Medical Spa and Beaufort Dermatology. Principal, Dr. Audrey Klenke is the only board-certified female plastic surgeon in Bluffton, South Carolina and is affiliated with multiple outpatient centers in the area, as well as, Beaufort Memorial Hospital and Hilton Head Hospital. Pinnacle Plastic Surgery and PURE Medical Spa are located at 7 Mallet Way, Bluffton, SC 29910. Beaufort Dermatology is located at 1096 Ribaut Road, Beaufort, SC 29902. For more information, please call (843) 815- 6699, or visit https://pinnaclemd.com/, https://pinnacleplasticsurgery.com/, https://puremedspamd.com/ and https://www.beaufortdermatology.com/.