Savannah's
COMMUNiTY HEADLiNES
The Local Newswire
---
DEWITT TILTON GROUP TO DELIVER HOLIDAY MEALS TO LOCAL POLICE AND FIRE STATIONS
(SAVANNAH, GA) The Dewitt Tilton Group, a premier commercial construction firm in Savannah, will deliver holiday meals to the Thunderbolt Police and Fire Stations THIS Thursday, December 20, as a way to say thank you to our local servicemen. The meals will be delivered in to-go boxes for easy transportation. Chris Tilton and Andrew Dewitt, principals of The Dewitt Tilton Group, will pack the boxes at 12:30 p.m. and hand-deliver the meals at 1 p.m. The meals will include turkey, stuffing and sides with all of the fixings of a home-cooked meal. Altogether, over 30 first responders and staff members are expected to receive a meal. For more information on the Dewitt Tilton Group, please visit www.dewitttiltongroup.com. To learn more about the Thunderbolt police and fire, please visithttp://www.thunderboltga.org/ 
---
ENMARKET TO REBUILD DOWNTOWN MLK STORE
(SAVANNAH, GA) The Enmarket kiosk on MLK Jr. Boulevard near i16 will look more like its prestigious surroundings in the historic district come spring of 2019. Savannah-based Enmarket announced they will rebuild and expand the kiosk with features that will integrate its appearance into the downtown location. Unlike other stores, this location will have an outdoor dining patio, a green space, and a bike service area. A local artist will be contracted to design and paint a community-themed mural on one of the exterior walls. For more information visit https://carriagetradepr.com/enmarket-to-rebuild-downtown-mlk-store-in-savannah/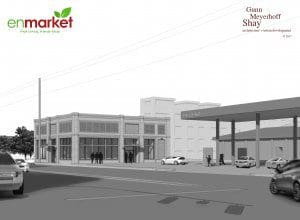 ---
BUSH'S GREATEST LEGACY
(SAVANNAH, GA) George H. W. Bush left behind many great legacies, one of the best being the Americans with Disabilities Act. Check out this wonderful letter to the editor written by Kayla Johnson, Executive Director of the Lowcountry Down Syndrome Society (LDSS) and learn more about the importance of this act. https://www.savannahnow.com/business/20181214/kayla-johnson-bushs-greatest-legacy-americans-with-disabilities-act 
---
REACH CUSTOMERS ONLINE WITH GOOGLE
(SAVANNAH, GA) The UGA Small Business Development Center in Savannah and the UGA SBDC at Georgia Southern University, along with the Richmond Hill-Bryan County Chamber of Commerce will present a workshop on January 23rd from 8:30 a.m. to 11 a.m. Find out what Google knows about your business and get your Google Business Page instantly verified during the session. For more information, visithttps://www.georgiasbdc.org/reach-customers-online-with-google/
---
OPTIMIZE FACEBOOK
(OPEN FOR BUSINESS®) Learn how to optimize your Facebook advertising. Seven simple steps here: https://fitsmallbusiness.com/facebook-advertising/
---
JUNIOR LEAGUE ACCEPTING COMMUNITY PROJECT APPLICATIONS
(SAVANNAH, GA) The Junior League of Savannah is now accepting applications for Community Projects through December 31, 2018. Community Projects are organizations that partner with the Junior League of Savannah to gain volunteers and funding for a specified project. This year, the Junior League of Savannah will select Community Projects that align with the current focus of K-12 Education Performance. To apply, please visit the Junior League of Savannah's website at www.jrleaguesav.org or call 912-790-1002. The application deadline is December 31, 2018.
---
LOCAL SCORE CHAPTER NAMED PLATINUM PARTNER
(SAVANNAH, GA) SCORE, the nation's largest provider of free business mentoring services and educational programs to aspiring entrepreneurs and small business owners, announced today that the Savannah Chapter has been named a SCORE Platinum Chapter, the highest honor a SCORE chapter can achieve. www.savannah.score.org 
---
MARITIME AFTER HOURS DONATES TO RMHC
(SAVANNAH, GA) For the fifth consecutive year, Savannah Maritime After Hours presented a holiday donation to the Ronald McDonald House of the Coastal Empire. This year, the donation was increased by $500, for a total of $2,000, which will be used to support the growing needs of the House and their residents. For more information, please visit http://www.wtoc.com/2018/12/04/ronald-mcdonald-house-receives-donation-savannah-maritime-after-hours-group/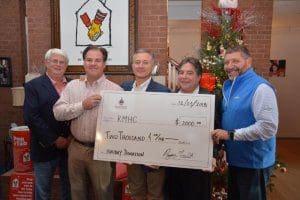 ---
GIVE BACK TO PARK PLACE OUTREACH
(SAVANNAH, GA) Give back to Park Place Outreach Youth Emergency Shelter this holiday season. See their wish list here: https://www.myregistry.com/organization/Park-Place-Outreach-Youth-Emergency-Shelter-Savannah-GA/1367200Â 
---
CECILIA RUSSO TURNER RECEIVES COMMUNITY IMPACT AWARD
(SAVANNAH, GA) The Ronald McDonald House Charities of the Coastal Empire has honored Cecilia Russo Turner of Cecilia Russo Marketing as a 2018 Community Impact Award recipient. The community impacts awards program began in 2014 to recognize long-time contributors, businesses and volunteers for outstanding achievement in serving local Ronald McDonald House children and families. For more information, please visit http://www.wtoc.com/2018/11/14/ronald-mcdonald-house-holds-impact-awards/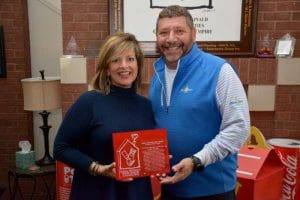 ---
OPEN FOR BUSINESS® RECAP
(OPEN FOR BUSINESS®) Did you miss November's session of Open for Business®? We had special guest, Sherry Daniel, of Roto-Rooter Plumbers of Savannah with us talking about the power of an intern. Please note, we will not host Open for Business® this month. Watch the full video here: https://www.youtube.com/watch?v=LrlHru6Vj5A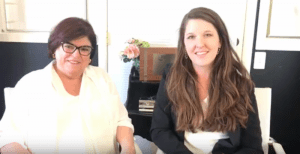 ---
"SANTA'S WORKSHOP" COMES ALIVE AT PEACOCK AUTOMOTIVE
(JASPER COUNTY, SC) Peacock Automotive held their second annual "Santa's Workshop" Christmas event. Families enjoyed gingerbread cookie decorating and Christmas caroling with local musician David Ross, as well as a hot chocolate bar and hot dogs. Santa Claus was available for photos. The event was free and open to the public. To watch a recap video from Santa's Workshop, please visit https://youtu.be/BGKLZSSSQ68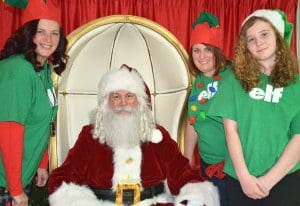 ---
BETHESDA ACADEMY PRESIDENT RECEIVES GEORGIA GOAL AWARD
(SAVANNAH, GA) The Georgia GOAL Scholarship Program recently presented Michael Hughes, president of Bethesda Academy in Savannah, with the GOAL Advocacy Award. The award acknowledges individuals who have displayed passion and perseverance when appealing to legislators to preserve, protect and expand the program's scholarship opportunities. For more information, please visit http://www.bethesdaacademy.org/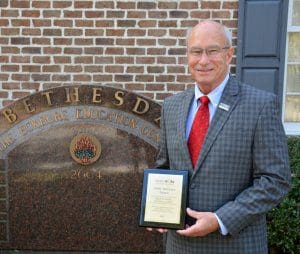 ---
DONATE TO THE RONALD MCDONALD HOUSE THIS CHRISTMAS 
(SAVANNAH, GA) The Ronald McDonald House of the Coastal Empire is in need of supplies to help with the operations of the House. Wishlist items include quick meals (soups, Ramen noodles, mac and cheese); individually packaged snacks; boxes of cereal and drinks; high efficiency free and clear laundry detergent and dryer sheets; hand sanitizer and hand soap; bathroom, shower and toilet bowl cleaners; Swiffer Wet Jet fluid and pads; disposable bowls, plates, utensils and gloves; 33-gallon trash bags; 60 watt CFL light bulbs; toothbrushes and toothpaste, dishwasher tablets, sponges and liquid dish soap; Febreze; gallon zip-lock bags; tissues; disinfectant wipes and gas/grocery gift cards. All donated items should be new, unopened and unused. For more information, please call the House at 912-350-7641, or visit http://www.rmhccoastalempire.org/get-involved/wish-list/Â 
---
DAWN BAKER SPEAKS ON DAWN'S DAUGHTER
(SAVANNAH, GA) Listen to Dawn Baker, founder of Dawn's Daughter, Ltd. whose main goal is to provide unique, life-changing programs, activities and experiences which will enhance the development of girls and young women, inspire them to pursue excellence and much more. View the interview here: https://drive.google.com/file/d/13mN6tT6lJgnU3BUnfYe-88ddPzgq0m2B/view?usp=sharing
---
WISHLIST ITEMS FOR COASTAL PET RESCUE
(SAVANNAH, GA) Looking to donate this holiday season? The local Coastal Pet Rescue could use a little extra help! Please see their wish list items at the link below and consider giving back to our local pets in need. https://www.amazon.com/gp/registry/wishlist/3C5XF40V00BX2?pldnSite=1Â 
---
DINNER CABARET FOR A GOOD CAUSE
(SAVANNAH, GA) Wesley member Craig Hanson had a life-saving liver transplant on October 15. For 18 years Craig has taught 5th grade science at Isle of Hope Elementary where he has been teacher-of-the-year 3 times. For 11 years, he has sung with the Wesley Choir. Grab your flapper dresses and fedoras and join the Wesley Choir for a Roaring 20s Dinner Cabaret benefiting Craig. Dine on a three-course meal with wine, and feast your ears upon music from choir members including songs by Ella Fitzgerald and Nina Simone, as well as, music from Carmen, Cabaret, and more! Visit the Facebook page for more information: https://www.facebook.com/events/1956363437787045/
---
E-COMMERCE TIPS
(OPEN FOR BUSINESS®) The top 25 E-commerce problems and mistakes to avoid: https://fitsmallbusiness.com/ecommerce-problems-mistakes/Â 
---
PARK PLACE OUTREACH RECEIVES $4,200 WORTH OF PLUMBING FROM LOCAL ROTO-ROOTER 
(SAVANNAH, GA) Roto-Rooter Plumbers of Savannah donated $4,200 worth of plumbing equipment to Park Place Outreach Youth Emergency Shelter as part of their "Give the Gift of Plumbing" program. The home, which serves runaway, homeless and at-risk youth ages 11-17, received seven new toilets, a new garbage disposal and a new kitchen faucet. For more information visit https://www.savannahnow.com/business/20181201/bis-in-brief-roto-rooter-score-chatham-parkway-toyotasubaru-sterling-seacrest-rite-aid-harbor-foundation-100
---
FELDER & ASSOCIATES RECEIVES NATIONAL RECOGNITION
(SAVANNAH, GA) Felder & Associates has been named as a Silver Winner in the 2018 Brick in Architecture Awards program for its work on the Bouhan Falligant building. Only 19 projects were selected for recognition. Felder serves as the design firm for the structure that anchors the south end of Savannah's Forsyth Park and is the new home for the city's oldest law firm. For more information, please visit http://savannahceo.com/news/2018/11/national-recognition-given-felder-associates-bouhan-falligant-design/
---
SAVANNAH TECHNICAL COLLEGE HOSTS THE 15TH ANNUAL GALA
(SAVANNAH, GA) The Opportunity Award Gala, the Savannah Technical College's signature fundraising event, honors deserving civic leaders in our community for a lifetime of service in creating and enhancing opportunities for others to succeed. This year's honoree was Ted Kleisner. Now in its 15th year, the event gathered 300 community and civic leaders for a celebratory evening honoring a special individual. The evening also showcased the talents of students enrolled in the college's award-winning Culinary Arts programs. Proceeds went to support the renovation of 7 West Bay Street to house the college's Savannah Culinary Institute. The 2018 sponsors include Cecilia Russo Marketing, Gulfstream, AT&T, Savannah Area Chamber of Commerce / Visit Savannah, BankSouth, Hansen Architects, Dick Eckburg, Bob Jepson, Don Waters, Stratton Leopold and others. For more information, please see https://www.savannahnow.com/business/20181207/savannah-tech-gala-honors-tourism-visionary
---
LSEGA ALUMNI OPEN CITIZENS BANK & TRUST IN RICHMOND HILL 
(RICHMOND HILL, GA) Local banking executives, Jon Seagraves and Brad Brookshire announced they have teamed with Citizens Bank and Trust to open a full-service banking office in Richmond Hill. Both Seagraves and Brookshire have lived in Richmond Hill for many years, and are eager to revitalize the face of local, community-oriented banking to better serve the rapidly expanding market. Both Seagraves and Brookshire are also alumni of Leadership Southeast Georgia. For more information, please visit https://citizensga.com/about/news/were-expanding-to-richmond-hill
---
15 to 20 ROTARIANS TO TRAVEL TO INDIA, NEW TRIP PLANNED
(DISTRICT 6920) A second trip is being planned to India to immunize children from polio. This is a 10-day journey, starting on January 29, 2019, in New Deli. The cost for the program is $2,115. Contact Nancy Barbee for details. nbarbee@gmail.com
---
HELP SMASH ALZHEIMERS!
(SAVANNAH, GA) Help Smash Alzheimers! Take a video of you smashing something (anything), post it to your social media and mention the website, www.SmashAlzheimers.com. This is a fundraiser, so get to smashing! For more information, please contact John Whitwell at jwhitwell2003@yahoo.com.
---
CONGRATULATIONS TO THE NEW GUARD
(SAVANNAH, GA) Savannah Magazine announces the next generation of entrepreneurs, business leaders and innovators. These community and business leaders have distinguished themselves by their professional achievements and philanthropic service within Savannah and the Coastal Empire: http://www.savannahmagazine.com/new-guard-2018/Â 
---
LDSS KICKS OFF 3-21 CAMPAIGN
(SAVANNAH, GA) Did you know that people with Down Syndrome have three copies of chromosome 21-? The Lowcountry Down Syndrome Society (LDSS) has kicked off their 3-21 Year End Giving Campaign which will run through December 31. You can donate at ldssga.org
---
SPEROS PRESENTS MONTHLY TIPS: PHISHING
(SAVANNAH, GA) Do you know what phishing is? From advance-fee scams to spoofed email addresses, phishing has been a common attack. It is critical to understand how phishing works with so many variations of the scam being out there. Learn more here: https://www.pii-protect.com/security_news_letters/send_file/39/attachment/?brand_key=uyjmd 
---
MEET ANN
(SAVANNAH, GA) Coastal Pet Rescue introduces Ann! Ann is a three-year old female terrier mix. She is a perfect size with just the right amount of energy! Ann is very thankful to have been given a freedom ride to rescue but is hoping to find a home of her own for the holidays. For more information on Ann or any of Coastal Pet Rescue's other cats and dogs for adoption, please visit http://coastalpetrescue.org/adopt/view/2018-d-533-ann/
Please follow and like us: